Bangers are the indispensable promotional product to be used in a public event!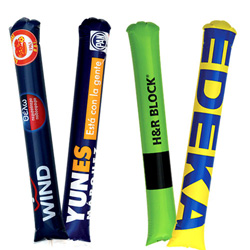 They are really appreciated to promote a brand in Sport events, football stadiums, basketball, publics and social events, rallyes or contests.
It's incredible to see how strong is the impact on people who assist to the event.
Bangers leave a lasting mark: it's proved that the use of bangers in a sport event increases significantly the memory of the brand.
The strong visual impact is a tool serving brand image.
HORIZONSOURCES manufactures the best banger quality of the industry.
Made of ultra resistant Polyethylene, our bangers are the only ones to be be printed full colour!
Its system of valve prevents the banger from deflating.
And to adapt even more to your event, we also offer special shape bangers: basket ball, foot ball, bottle, sword, hammer inflatable hand, etc…
Are you interested in receiving a special offer? Contact us now and we will send you a free quote with no compromise.
I bet you won't find better prices!
Dare to have success!