What's the world coming to?! Nowadays, people sell their body as a permanent advertising space …
Yeah well, marketing techniques are changing…so are communication mediums!
It seems that it has become fashionable to offer some companies to tattoo their logo or brand on a part of one's body: like one's leg, arm, or forehead !!
For example: Karolyne Smith, This blond woman earned 10 000 dollars getting "goldenPalace.com" (casino online) tattoed on her forehead (¡So discreet!)
Without going so far, temporary tattoos used in promotions have proved their efficiency more than one time, as a sales motivator, to develop brand image or fidelity.
Temporary tattoos are very often used in sport events (beach volley tournaments, handball, basketball, football)
As sales motivator when offered with magazines, drinks, chips…
As a gift for the launch of a new product : launch of a book, movie, perfume …
As entertainment support in Discos: Ex: One free cocktail if you wear the fluorescent tattoo promoters distributed …
It's a fact, Temporary Tattoos are an efficient promotion tool, and the biggest brand already know it!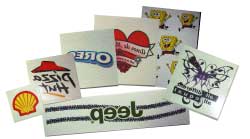 The Horizon group has a 15 year experience in manufacturing of promotion temporary tattoos:
We customize the tattoo with any design, including photographs
Minimum quantity: 5000 units per design
Totally safe, non toxic and hypo-allergenic
FDA certifications and documents available for all ingredients used in production process
Independent lab testing.
We offer different standard sizes of tattoo:38 x 38mm / 51 x 51 mm / 76 x 38 mm / 76 x 76 mm / 101 x 101 mm / 101 x 151 mm
The Horizon Group has full in-house art design department
State-of-the-Art Computerized Printing Facility -The best premium quality Temporary Tattoo available on the market
And last but not least: Absolutely the most competitive pricing structure in the industry
To know how Temporary tattoos are manufactured, read this article.
To learn more about our factory, click here.
To see our range of temporary tattoos for promotion, click here.
To receive prices and information, click here.