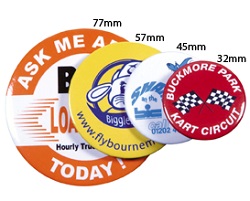 buttons are one of the most timeless commercial items, and they are getting more and more popular as well. to show everyone what you stand for or what you're a fan of, you can order buttons with your own design or logo
these buttons with print are a way of expressing your opinion, character and emotions. if you're a fan of something, everyone can know.
the buttons we provide are of the best quality and are available in a wide arrangement of shapes and sizes.
we can print one or more colors on the buttons, or we can print them in full color. if you want to order these
buttons but are not yet sure what kind of design you want, we are more than happy to help you decide.
these buttons are very easy to spread during a (business) event or festival. and the more people have your buttons, the more people will know about your business. the big buttons (almost 8 centimeters in diameter) are very popular amongst children.
we offer buttons with a beautiful and good quality
we can print the buttons with single colors or full color
you can order these buttons starting with 250 pieces.
on the backside of the button is a safety pin so it's easy to wear
they're available in the following sizes: 32mm, 45mm, 57mm and 77mm
if you are interested in buying these buttons, please contact us.
mailto:hello@horizonsources.com
and our phone number: +44 20 70 99 21 66