Do you wish to make some yo-yos with your own logo? It's fast and easy thanks to Euro-Logo. In our company you can buy and personalize them, the production is really fast and above all it's a cheap product.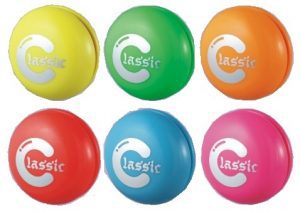 Everyone knows the yo-yo: both children and adults, indeed it's still a very popular and famous product.
The yo-yos are nowadays a very effective tool for brand's communication.
For example, if you need a gift that will bring some fun to your prospects, the yo-yo will be perfect for that. You can be sure that everyone will try to play with it as soon as it'll be given one. Most likely, the yo-yos will be given to the kids and your message will be delivered many times and for a long period.

Another important point, one that should be the first to be taken into account while choosing a promotional gift : what kind of reaction do you want from the prospect when he receives the gift. If the answer is a smile, the yo-yo with your logo will be perfect for that.
There are several models of yo-yos: made in wood, plastic or stainless steel, with lights and/or sounds, all of them are printable and they can be customized with a text, a picture or a logo.

Do you also have a precise PMS color for your company? No problem, you can have it on the yo-yos very easily.
The MOQ is 250 pieces; we're at your disposal for any questions.
The model you're looking for isn't there? Feel free to ask us, through the phone 004402070992166 or through mail: contact-us@horizonsources.com we don't have enough place here to show them all!