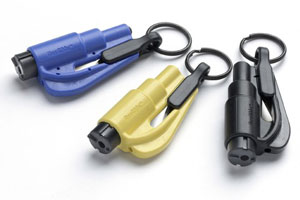 Here is the alternative to safety hammers .
This useful, original and innovative product is an actual revolution in the safety universe!
ResQMe is made of a high steel point which can break your car's side windows, along with an stainless blade making you able to cut through jammed safety belts.

Coming right from USA, and commercialized by NOV 8 Safety, this product possesses the same functions as safety hammers but has some additional advantages: thanks to its small size, and its ingenious fastener, it clips easily to your keyrings, your safety belt or car's visor…Thus, it's always at your fingertips!
The Dutch Transports Minister recently announced his decision to standardize safety tools in all new vehicles, since beginnings of 2009.
The most widespread of these tools ; the safety hammer which cuts safety belts and breaks windows in case of accidents, is a well-known concept for more than 20 years in various industries, especially the Promotional Products one.
Nowadays, most of these hammers production are produced in China, but some of them are still manufactured in Europe, and keep a guarantee of quality.
Moreover, for 20 years, technology has improved and it exists today on the market an innovative product called ResQMe (rescueme).
Light, compact and unconspicuous, ResQMe is the ideal solution to the new increasing demand in this sector !
It is easily accessible if needed and doesn't require any facility.
Innovation worldwide recognized, ResQMe is part of the road safety reinforcement efforts.
This is why ResQMe has recently been awarded with a gold medal as the best invention in its sector at the INPEX tradeshow aux USA.
It also has been silver-medal-winner at the Dutch PromZ tradeshow and elected best promotional article by the VPCD in France !
ResQMe also has been graded 4/5 by the very serious magazine Autoplus !
Originally, ResQMe was created for emergency professionals, and with a view to its growing popularity, lots of organizations and companies have adopted ResQMe.
On this account, important European automobile clubs like Motormannen (Sweden), NAF (Norway), FDM (Denmark) or ANWB (Deutschland) have included ResQMe in their catalogues.
Thus, it's not a surprise to see more and more cars' producers adding ResQMe to their product line through their concessionaire!
One of them, Toyota in Norway, uses ResQMe for more than 2 years in its promotional strategy offering a safety message strong and concrete to its clients.
ResQMe is more than a simple product, it's a « Gift for life » !
Customizable with the logo and the colors of your firm, ResQMe seems to be a promotional article useful and impactful because it deals with safety of the recipients.
As the Dutch Minister of Transports advises:
each citizen should possess an emergency tool !
: In this case ,
ResQMe establish itself as an obviousness!
For more information about ResQMe, click here !