Although the U.S. economy continued its fits-and-starts recovery in 2011, promotional products sales during the period outpaced almost all other non-electronic media. PPAI's annual survey of distributor sales, which comprises the official distributor sales estimate for the promotional products industry, shows the industry moved $17,721,945,690 worth of promotional goods last year—a seven-percent gain over 2010. This marks the second consecutive year of positive growth following declines in 2008 and 2009. The industry experienced its highest level of sales in 2007 at $19.7 billion.
Throughout 2011, PPAI monitored sales using a quarterly member-distributor sales sample. This quarterly barometer indicated a 6.7 percent increase for the entire year—a figure consistent with the all-industry (member and nonmember) calculation.
PPAI's annual survey of distributor sales indicated that both large and small companies had much to cheer about at year's end. Distributors in the $2.5 million-plus bracket recorded sales of $8.6 billion, up 6.7 percent; the smaller-company segment did even better—up 7.3 percent in producing orders worth $9.1 billion.
"People are opening their wallets a little more," observes Tim Broadhead of distributor Banyan Incentives. Sixty to 70 percent of his company-designed products are new designs, he says, so he expects this year to also be a winner.
At the Vernon Co. (UPIC: vernon) it was a matter of prospecting. "Some of our salespeople found that people weren't going to spend more, so they went out and found some new accounts," says Dan Stevenson, executive vice president.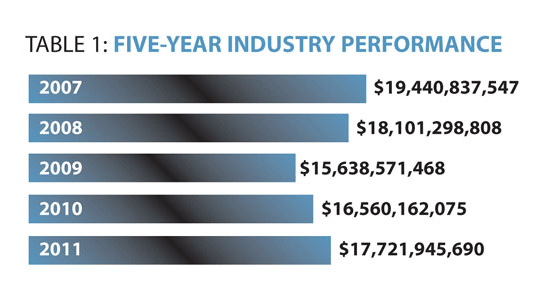 The Tally For Small Distributors
The revenue average for the 21,500 firms in the small-company segment was $422,505 (vs. $407,114 in 2010). A more telling sales statistic, the median—that is, the midpoint where half the population is above and half is below—was $230,066.
For several years, the industry has been a magnet for companies whose core business is unrelated to promotional products. As Table 2 indicates, almost four in 10 small distributors (sales under $2.5 million) reported they did less than 80 percent of their business in promotional merchandise. Perhaps their migration to a new vista was beneficial, because nearly a third of their revenues were from promotional merchandise. The trend line, although uneven, points to the industry's products as an attractive second-revenue stream.

In 2011, the small-distributor cohort did 16.8 percent of its business with non-industry suppliers—that is, firms not listed with PPAI, ASI or SAGE. For the large-distributor segment, the corresponding figure was 15.4 percent. All told, distributors of all sizes placed $2,969,914,983 worth of business with suppliers that were, from the industry standpoint, "outsiders."
Internet Sales
Over the years, the internet has become a channel inching its way to prominence as a source of distributor business. Last year, $3,099,370,950 in distributor revenues was attributed to dot.com posts. In previous years, web business percentages hovered in the 16- to 17-percent range for both large and small distributors. The 21.1-percent average for large distributors in 2011 likely represents a breakthrough.
For the small but growing number of online distributors such as Adco Marketing (UPIC: ADCOMARK) in Corte Maderia, California, the current pitch is repeat business. "We are getting customers to come back more than once a year," says President Karen Herzog, adding that her company is attempting to maintain more contact through mailings and offers to select customers than was done previously.

How Promotional Products Fare Against Traditional Media
If you pay attention to what competing media were doing last year, you'll be elated with the rate at which orders came in for our industry's imprinted merchandise. The "old media," a classification that curiously includes promotional products, got off to a fairly good start last year and then fizzled. All-media spending of $172.3 billion represented a measly 1.7 percent increase over 2010, estimates MagnaGlobal, the forecast arm of the Interpublic marketing communications empire. A look at our annual assessment of what the other media were doing (Table 4) shows that, of the traditional media, only cable TV surpassed promotional products by percentage increase.
Sporting double- and triple-digit gains, the real pacesetters are the new, interactive players such as internet advertising and mobile phone ads. These are the media preferences of the millennial generation, the 18-to-34 age group. Often characterized as "stimulation junkies," members of this group aren't influenced much by exposure to traditional media, according to a recent study published by MediaPost. That's because their "immediate and delayed recall rates" are lower than for older generations. In other words, longer exposure is required for the ad to sink in. The advice: Show the product longer, make the brand name more visible and include more mentions throughout the campaign.
*A subset of internet advertising
Expenditures for selected advertising media and promotion methods were compiled for Promotional Products Association International by Richard Alan Nelson, Ph.D., University of Nevada-Las Vegas and Rick Ebel, Glenrich Business Studies. Sources include American Business Media/Business Information Network, Cable TV Advertising Bureau, Direct Marketing Association, IEG, Interactive Advertising Association, Newspaper Association of America, Outdoor Advertising Association of America, Point-of-Purchase Advertising Institute, PQ Media, Publishers Information Bureau, Radio Advertising Bureau and Television Advertising Bureau.
Show Me The Money
Respondents in our study were also asked about their profits. A little more than half (52.6 percent) reported 2011 was more profitable for them than the previous year. But check out Table 5. There was a significant difference in profit reporting between the large- and small-company cohorts.
Regardless of company size, most distributors say they're optimistic about the current year. About seven in 10 expect greater dollar volume for their companies. But it would help if the nation's GDP expanded a little more than the 2.2 percent experienced in the first quarter.
Fortunately, the industry's distributors did a lot better than that in this year's first quarter. PPAI's quarterly barometer, reporting on 416 member and nonsmalmember distributor respondents, showed a 6.4 percent hike over the first three months of 2011.
The big ad agencies, which make TV buys, are looking for this year's political campaigns and the Summer Olympics promotion to give them some lift. Might the same be true for distributors? Unfortunately, those markets are not for everybody. "All distributors look for a niche," says Mark Gilman, CAS, chairman of supplier Gill Studios (UPIC:gill), "but of all the specialties they can get into, I think political sales are the least popular."
Gilman provides some insight into the campaign bumper sticker-button-yard sign business. "Our main political business is state and local (elections). What happens is that, in presidential years, we have found that states try to have fewer political races in their states" so as not to compete with the presidential campaigns. He says this year his firm is expecting a 4.5- to five-percent uptick in campaign business over 2008 when the White House was last contested.
To make good on that 2012 optimism, it might be wise to focus on those Twitter-benumbed millennials and introduce products that can seize and hold their attention longer.
Richard Alan Nelson, Ph.D., is a professor at The University of Nevada – Las Vegas. Rick Ebel is principal of Glenrich Business Studies, a marketing communications and research company in Corvallis, Oregon.
Source : PPAI publications