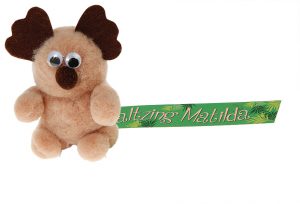 You don't know what kind of personalized product you could offer to a young audience ? We found the best cuddly that will allow you to spread your message properly : the large winnies/weepuls animals. The winnies have the particularity to have this ingenious paper ribbon on which we can print our logo and/or mantra in full color.
The cuteness of the animals is going to delight everyone. How could anyone resist to the adorable  Donkey, Koala, peacock, panda, squirrel, elephant or the beauty of the butterfly ? No way, it's impossible.
The large weepul animals are the perfect way to communicate in a pleasant way : by giving a charming present who appeals to people's child soul,  they are more open to receive your message with benignity.  No way to find a better way to give your message, especially if you want to incite somebody to give you back something (some money for animal protection for example).  Large animals winnies can also be a fantastic souvenir to sell in Zoo or national parcs.
The Large weepul animals can be stuck wherever you want, like computers…  They are so adorable that people are going to keep them and in consequences, they are going to see your message over and over again… WIN WIN !
You want to tell your love for the  large animal winnies ? Like the Weepuls facebook page.
You want to order  large weepul animals to succeed in your communication operation ? Contact the expert : www.weepuls.com