The LED technology (Light Emitting Diode) is probably the best revolution we've ever seen in floodlight since electricity was invented.
The uses of LED lights are innumerable, because it diffuses a powerful light and it saves a lot of energy.
The promotional pocket light "LOGOLIGHT" is an adequate gift for car companies (concessionaire, car mechanics, spare patch shops, etc.)

60 hours of light to highlight the way to your brand
The Logolight is extremely flat(5 mm), which allows to keep it in any place. We have two standard sizes available: 90 x 75 mm (4 long lasting batteries) y 80 x 50 mm (1 battery).
The Flat pocket Light is a perfect promotional gift:
because of its wide full colour printing surface (2 sides)
because it's really flat and you can keep it in the glove compartment, in your bag, in your briefcase…
Because it's easy to find in the dark thanks to its embossed button.
Because of its long lasting batteries : 60 hours of light non stop.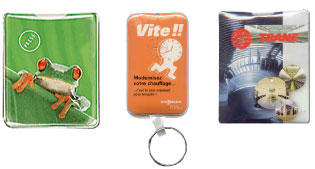 To have more information on the logolights or to receive a free quote,
click here