Nowadays, the badges are strongly coming back: it is a "vintage" product which people love.
As a specialized wholesaler, we are able to provide you with printed badges at a very competitive price. You choose what will appear on the badge, your logo and/or a text of your choice.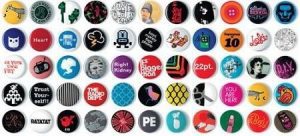 The badge is the perfect promotional product for any festive event, but not only. They are also nice goodies to offer for a commercial operation or as a reminder after a seminar.
Different sizes and shapes are available; the most common is the round one. For a young target, choose a massive badge, with a child security for the younger ones. But for a professional target, choose a more discreet and sober one.
If you want imprint badges for your own company, feel free to contact Horizonsources through the phone (+33 4 76 32 80 50) or email: hello@horizonsources.com .