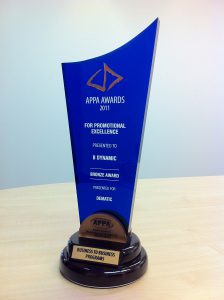 Australia. It's a lovely place to live and a great place to work. But how does the promotional products industry work in the land down under?
The Australasian Promotional Products Association, also known as APPA, is the only governing body and industry association for the promotional products and marketing industry. Membership into APPA is exclusive and promotional product distributors must meet a set criteria to be allowed membership. There are currently 350 promotional products companies registered with APPA from all over the country, however there are many more companies who claim to produce promotional products also. APPA members are the most highly regarded companies in the industry recognised by their outstanding business practices. APPA supports the industry by conducting tradeshows and the annual APPA Awards for Promotional Excellence, a ceremonial event recognising the best promotional products produced by distributors across 11 different categories (Source: APPA, www.appa.com.au).
Although Australia is a large country, with the right resources, it is possible to service the entire market across the country all at once. There are no boundaries as to how far a company's influence  can reach. It is quick and easy to ship products nation-wide and even internationally, although a disadvantage is that it can be costly at times. New South Wales is the most populated state in Australia and is home to the greatest number of promotional products companies in the country. Competition between distributors is the most intense in NSW, but there are opportunities for work arising all the time.
There is an increasing demand in the market for corporate gifting with clients asking for high-end brands for their company campaigns and events. Cheap giveaways like pens and novelty items will always be popular,  but organisations are starting to realise the effectiveness of high quality products and the high success rates of sending a message to your clients and employees with these products.
Another growing trend is environmentally-friendly promotional products. These are usually items made of bamboo, recycled or biodegradable materials. The need for organisations to portray themselves as socially responsible citizens is driving this trend. Bamboo travel mugs, pens, notepads and jute bags are the hottest eco-friendly products at the moment.
Australian clients like to be given the 5 star treatment, and so a key differentiator between distributors is the ability to stay up to date with promotional product trends, and the ability to provide excellent customer service. The promotional products industry has recovered well from the economic downturn and will continue to grow in Australia. Under the guidance of APPA, the industry will continue to work both efficiently and in an ethical manner.
Jam Pathirana
Managing Director
B dynamic