When we live in a big city, advertisements are part of our everyday life. They really are  everywhere. We are talking about a "playground" that is ideal for marketers who want to test their future communication campaigns.
Have a look at what has already been done : escalators are now used as a new advertising medium.
Panthene has been super inventive, just like Haribo.
Airports, commercial centers, metros, railway stations and even hospitals have escalators. They are there to take us from one point to another with comfort, and we let them do it while enjoying a short break.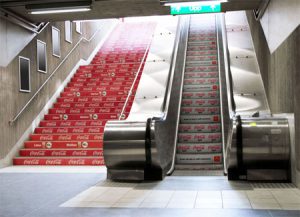 Just imagine how many people will see your advertisement ! You will reach a lot of people of different types (especially in the airports, a real melting pot !)
You can customize the steps..
In short, there are lots of possibilities to make yourself seen by thousands of people using this perfect and very original advertising medium .