I don't know about you, but it seems to me that our world is becoming more and more violent every day…Not only do you see violence on TV, but it is also present in our cities, towns, and villages. Murders, children abuse, rapes, bloody fights, terrorist acts.. all this "darkens" our world and makes it a dangerous place to live in..Sad, isn't it?
What shall we do then? The first step is probably raising violence conscience and awareness among the population. That's exactly what two Spanish artists did in Germany. They fabricated a huge cardboard knife and used it in the streets to create scenes of cartoon violence. People lying on the ground with a huge cardboard knife in their body and false "blood" covering their bellies gave a pretty realistic picture.
See some examples here.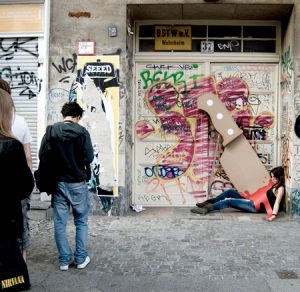 Aren't these pictures striking? Street marketing works! Maybe the effect will not be instantaneous, probably it will not reduce violence in the streets, but at least it attracts people's attention!! It raises our conscience and we become aware of the problem the world is currently facing!
If you wish to have a look at some more pictures, do not hesitate to have a look at: http://www.toxel.com